Overview :
The economical pre-set torque screwdriver is used to tighten the workpiece with a thread with torque requirements.
This product operates counterclockwise, can preset torque value. Over the set value of the screwdriver idling, the priority to control thread fastening.
It is suitable for precision instrument screw locking, circuit board fixing and so on, which have higher requirements for screw locking and higher requirements for locking accuracy.
Widely used in various electrical, light industry, machinery manufacturing, scientific research structure and other industries.
Feature :
1. can preset torque value and have sound alarm prompt. When the tightening torque of the fastener reaches the preset torque value, it can automatically send out a signal "click" sound, accompanied by obvious hand feel vibration, indicating that the work is completed. After the force is released, the relevant parts are reset automatically.
2. automatically switch in the reverse direction, both sides to use simple and convenient.
3. use straight line scale plus secondary scale, the scale line reading is clear and accurate.
4. jacket is made of nylon material, strong and wear-resistant.
5. this torque screwdriver to implement GB/T 15729—— relevant provisions of 2008.
Specification Parameters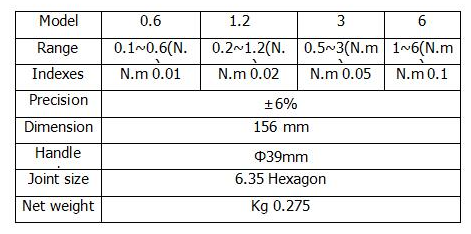 Usage
1. set the torque value of this screwdriver according to the torque required when the fastener is tightened; when preset torque value, hold the middle body in one hand first, pull out the loading handwheel in the other hand, rotate and adjust to the required torque, loosen the loading handwheel to return to the starting position.preset torque value completed.
2. select the batch head from the attachment according to the head form of the fastener and insert it into the hexagonal joint of this screwdriver (if there is no suitable batch head in the attachment to process the batch head for connection by itself, the hexagonal joint size is shown in the figure above).
3. the batch head of the corresponding specification is installed on the screwdriver, the hand-held handle aligns the batch head to the fastener and turns the screwdriver until the tightening torque of the fastener reaches the set value, the "click" sound signal occurs in the screwdriver idling, accompanied by obvious hand feel vibration, indicating the completion of the operation.
4. if not used for a long time, adjust the scale line to place at the minimum torque value.