Main use and application range
The digital torque screw driver is a product which is elaborately designed for assembling and detecting torque of small-torque fasteners in the precision manufacturing industry, is widely applied to the instruments, household appliances, electromechanical devices, vehicles and motorcycle industries and is an essential high-end tool for ensuring the small-torque and micro-torque precision fastening connection of bolts and nuts. Compared with the mechanical preset screw driver, the torque control is more accurate.
Function features
1. It can directly read the torque value.
2. It will be automatically powered off without operation in 10 minutes, thereby saving the electric quantity.
3. It can be operated both in the clockwise direction and the counterclockwise direction.
4. It can be freely switched among three working modes, i.e. real-time working mode, peak working mode and preset value working mode.
5. It has four torque units to be selected (N.m, lbf.ft, lbf.in, and kgf.cm).
6. It has a data storage function at the peak mode.
7. It can mark the torque direction and display the battery power.
Specifications and models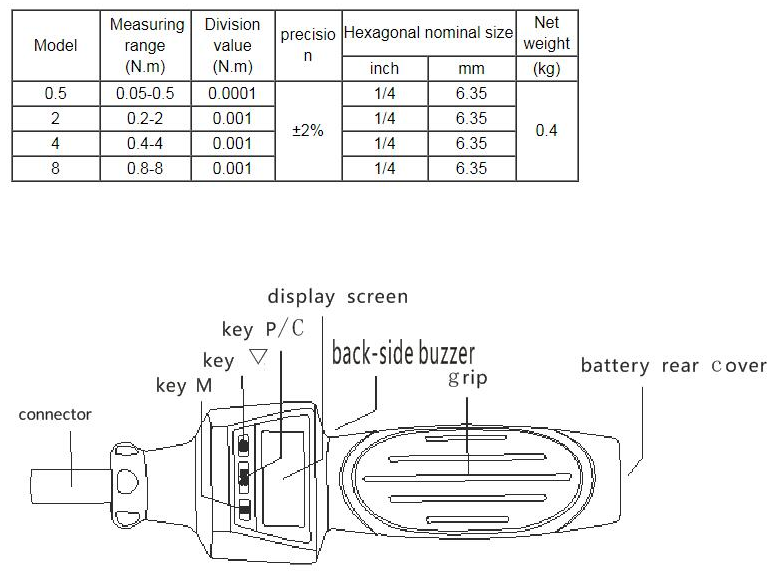 Technical parameters
1 Accuracy: 2% in two directions.
2 The early warning range is 85% of the preset torque value.
3 Power source: two AAA batteries. (not included)
4 Application environment: temperature (0 to 40) ℃, and humidity≤85%.
5 Storage environment: -10 to 60) ℃.