Characteristic & Function
Uses :professional tools for measure face difference (only flat surface)
Specification
1. Resolution: 0.01mm
2. Response speed: 3m/s
3. Error: ±0.02mm
4. Power supply: CR2032*1, automatic shutdown after 5 minutes, 1 year of service life
5. Working environment: Temperature 0-40°C, relative humidity ≤ 80%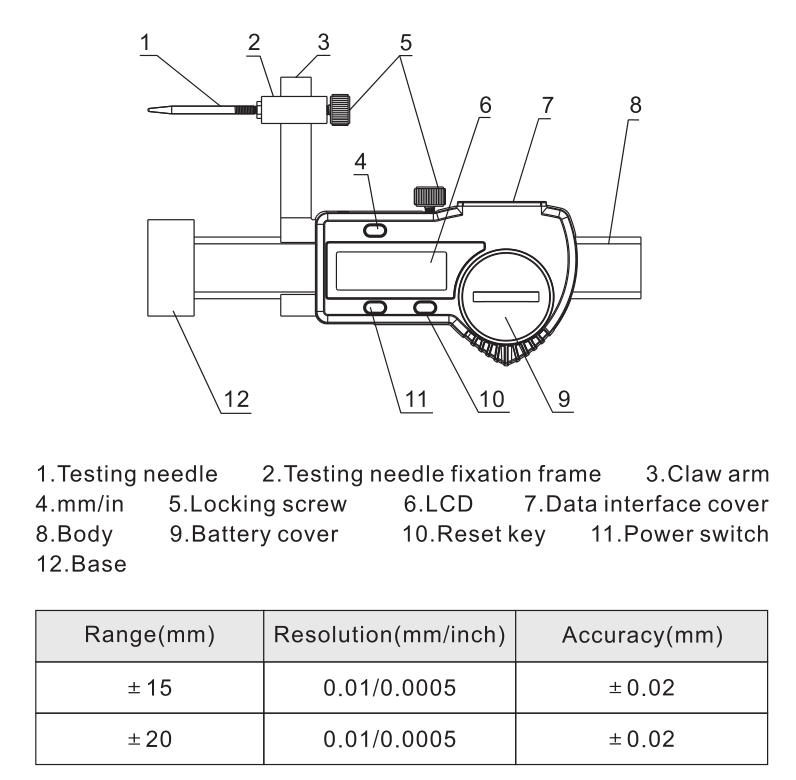 Method of use
1. When using at the first time, please open the battery compartment and the battery is placed into it, with the positive pole "+" outwards. If the number of the display screen does not change, please the battery is removed and placed into it again after one minute.
2. Loosen the locking screw, press the switch key to start the power, and check whether the display screen and the different keys operate normally.
3. Press the mm/ In key to convert the SI and imperial units.
4. The measuring reference plane is placed on the platform (such as the marble platform), the ruler frame is moved, the end face of the testing needle is made to be level with the measuring reference plane, and press the reset key to clear, and so the absolute measurement can be conducted. A certain surface can also be used as the reference plane, and it is cleared for the relative measurement. If pressing a reset button during the use, the reference plane and the testing needle shall be leveled when using again.
5. Through moving the fixed frame of the testing needle left and right, and the left and right distance between the testing needle and the reference plane can be adjusted. After the use, please wipe the ruler to be clean with a dry and clean cloth.