About Product
Mini Digital Grain Hardness Tester is suitable for the scientific research and teaching of the agricultural industry, dedicated to the test of grain (wheat, rice, rice, etc.) hardness,
using advanced force measurement technology, with high test accuracy, strong intuitive instrument indication, high resolution, simple operation, durable and reliable characteristics.
And the appearance is beautiful, can be handheld measurement in the acquisition site, can also choose to be tested on the laboratory workbench.
Characteristics
1 Digital display, easy to read, high accuracy
2 Light weight, small size, easy to carry
3 You can switch between Kg and N units
4 If you do not operate it for 10 minutes.The machine will automatically shut down
5 It has three measurement modes: real-time, peak, and first peak free value switching
Appearance structure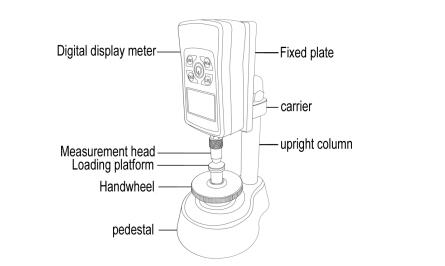 Specification
Model:AGW-3
Maximum load value:20kg/196N
Load division value:0.01kg/0.1N
Accuracy:± 2% (10%~100% of the full range)
Working temperature:5℃~35℃
Transportation temperature:-10℃~60℃
Relative humidity:15%~80%RH
Work environment:No focal source and corrosive media around
About Package
Product*1 set
Height adjustment platform A*1
Height adjustment platform B*1
Instructions*1